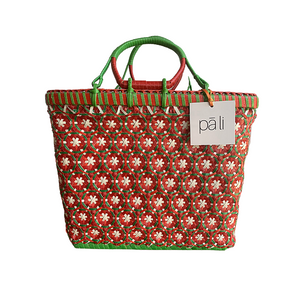 Intricate detail in this Pali Basket Flora design with beautiful round handles (Approximate H:28.5cm L:30cm D:17.5cm). Unique and original one off pieces. 
Pali Baskets are individually hand-woven in remote villages in Myanmar from colourful pallet strapping, utilising reused and recycled materials as available. Waterproof, durable and designed to last.
The sale of each basket enables our ongoing support for the artisans, village families and Burmese communities.
The perfect gift (and even better with a bottle of fizz inside)!